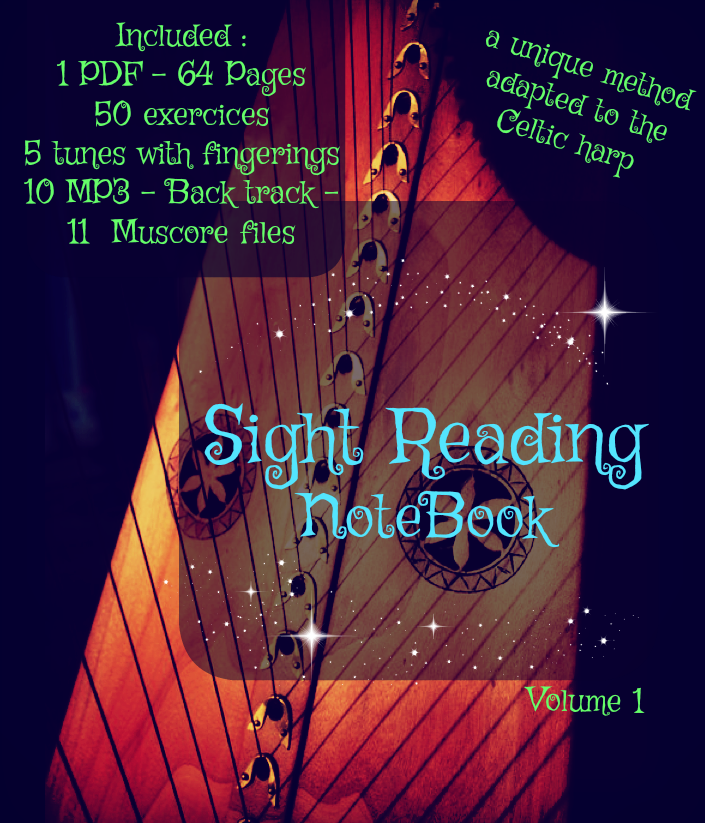 Sight Reading For Lever Harp - Vol 1 / Lecture à vue pour la harpe Celtique - Vol 1
- Learn at home and practice Sight Reading with your favorite instrument. -
Enroll in Course/ Acheter
- ENG -
A NOTEBOOK FOR LEVER HARP
Learn at home and practice Sight Reading with your favorite instrument.
1 PDF - 64 pages
50 exercices
5 tunes to learn with fingerings
10 MP3 (metronome beat, drum and acoustic music for improvisation - more 1 hour to practicing -
11 muscore files
---
Testimony -
Message of Betty - 17/11/2017
Your method of teaching is very special and I feel lucky to have found you! You make it enjoyable to learn and give us the confidence to express ourselves with little tricks like using the Rhythm section in our practice. Thank you for explaining the fingerings so clearly. What you say makes total sense and I'll give it a try when I practice today. Thank you once again for the update! The video is lovely and very helpful, just watched it and I'm off to practice with confidence!You've worked very hard to make learning the harp fun. I'm a visual learner and the videos are a perfect addition.
---
- FR -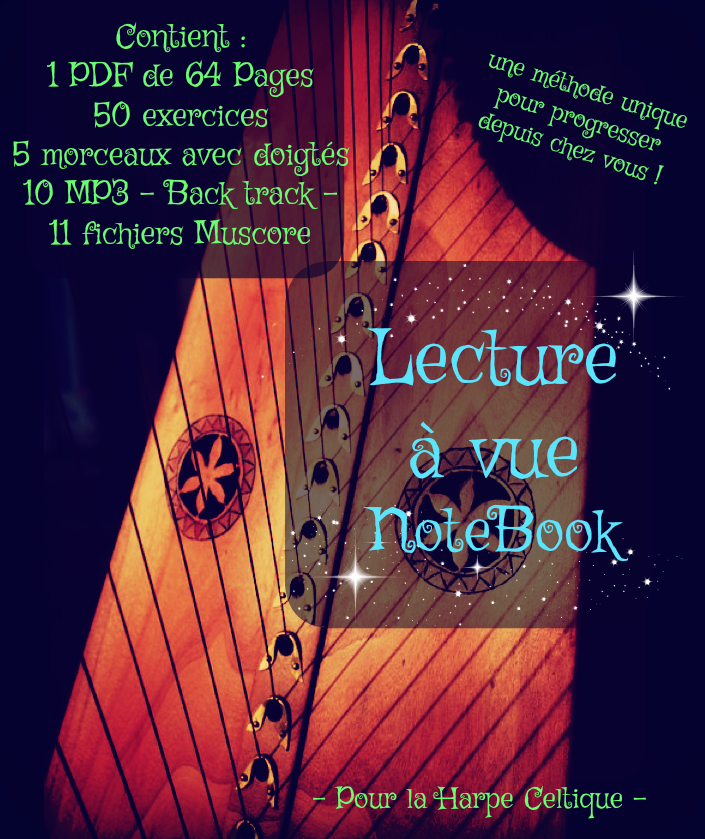 Carnet "La lecture à vue
en compagnie la harpe celtique"
Cet Ebook comprend :
1PDF - 64 pages - en français -
- 50 exercices
- 5 morceaux d'apprentissage avec des doigtés
- 10 MP3 - metronome , batterie et musique pour improviser - plus d'une heure pour pratiquer -
- 11 fichiers muscore pour encore plus d'interactivité
---
Témoignages
Coucou !
Je viens de télécharger votre carnet .....félicitations pour ce magnifique travail 🎶
vous êtes une grande bosseuse !!
Et aussi pour vous dire que les exercices en rythme sur musescore
sont très sympas à faire !
Bonne journée et merci !
Mary - 17/11/2017

----------------------------------------------------------
Bonjour !

merci de m'avoir contacté....
Au sujet du carnet ,je le trouve très complet pour une débutante comme moi !
Les exercices de lecture sont progressifs j'en suis au sol -do main gauche ,la main droite ça va !
Sur la harpe c'est plaisant ,tout à coup l'apprentissage du solfège est moins austère 😁 (tant pis pour les purs et durs !!)
et puis c'est une méthode personnalisée pour la harpe ! ce qui est important !
Les fichiers Musescore sont vraiment sympas (en plus il y a les doigtés ) donc je pense que c'est plutôt encourageant !
Bref je trouve votre méthode efficace ,claire et complète et conviviale !
Message de M - 2/12/2017
Class Curriculum - Programme de la formation
- Welcome -
Available in days
days after you enroll
- English course -
Available in days
days after you enroll