La version française est plus bas !
---
Prices 2019
- ENG -
This platform is bilingual- French and English -
all classes are videos in both languages. You can also choose to pay in US Dollars or Euros.
Creating your profile is FREE!

If you wish to understand how the platform works for navigation, the team of teachable has created a special Faq, go visit this page ..
You can subsequently choose to either subscribe.

Diamond Access
/per Month - 2 hours of skype coaching and Unlimited Access on Online Harp School - 89 $/€/
All prices include taxes of the country where I work
How to purchase ?

There are several ways to enter the world of Eve McTelenn harping and I am sure there will be a purchase solution to suit you.
this gives you full access to the full catalogue of my video lessons.
Subscribe for as long as you wish and cancel anytime.
B. Purchase lessons individually.
this will give you access to individual video lessons that will stay on your profile.
The corresponding sheet music is included as a download to print at home.
C. If you would just like to purchase the sheet music or video course,
Each tune can be purchased and downloaded as an individual item.
No subscription is necessary for individual purchases of sheet music or video lessons.
If you have any questions, you can contact me directly to this email: [email protected]

by team or assistant, I answer you in person! Thank you for your trust and see you soon on video!
FAQS
1- The site allows you to create a profile for free.
Thereafter you can buy either training by training, video lessons or just sheet tune that will be put in your profile. The tune sheet will be downloadable, so yours to keep.
if you choose a monthly or annual subscription - Subscription works as on Netflix -
this system allows you to access the school, ie all courses in video, masterclass and content.
but if you unsubscribe you will no longer have the catalog accessible -
except the courses bought out of school -
there are areas where you can download things, but in the video classes the scores are only visually accessible. if you want to download and keep the score or video course, you must buy the score,
I propose a link that will allow you to download it, and that will remain for life on your profile.
How is payment taken for renewal of, for instance a monthly subscription?
the payment of the subscription is done automatically by month or year,
but you can cancel at any time. because each country is different.- see the help of "teachable" -
Is payment taken automatically or is a reminder sent to the subscriber to make a payment?
---
How many lessons and scores can I access during one month?
Full catalog - if you wish to download scores, these can be purchased separately
When the month is over what happens to the lessons/ scores I have chosen?
if you delete or stop your subscription, you lose the access of the full catalog
What will happen to a lesson I buy as a single item? Will it be on my page for ever?
If you buy a single item, you keep it even after you no longer subscribe.

How often will new lessons/scores be available?
Otherwise, my goal is to offer an average of two new courses in video per month or more depending on the month.

How to download a sheet music / score ?
you can download the score of this song like this example.
Just click on the title like the photo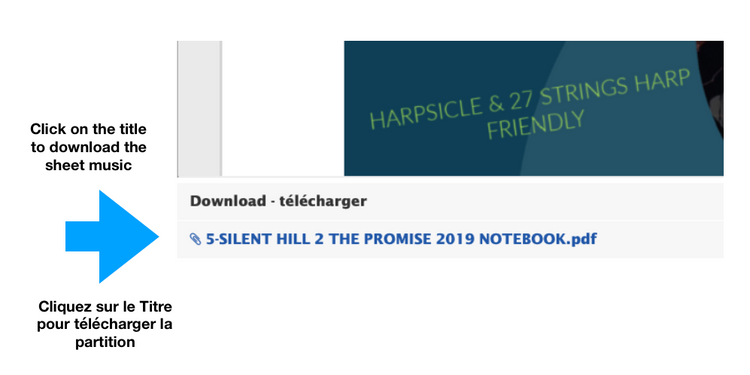 I propose 3 versions.
notebook format
in PDF format only, without cover
in muscore format, which is a free music software.
it's up to you to choose what suits you.
************************************************************************************************************************
**************************************************************************************************************************
---
- FR-

- FR-

- FR-

- FR-

- FR-

- FR-

- FR-

- FR-

- FR-

- FR-

- FR-

- FR-

- FR-

- FR-

- FR-

- FR-

-
Cette plateforme est bilingue - Français et Anglais -
tous les cours sont en vidéos dans les deux langues.
Vous pouvez aussi choisir de payer en Dollars Américain ou en Euros.
La création de votre profil est GRATUIT !
si vous souhaiter comprendre comment fonctionne la plateforme pour la navigation, l'équipe de teachable à créer une Faq spéciale, allez visitez cette page..( par contre en anglais mais pensez à utiliser google traduction )
Vous pouvez par la suite choisir soit de vous abonnez
Diamond Access / par Mois - 2 heures de coaching sur Skype avec Eve et aussi accès de l'école en ligne en accès illimité - 89 $/€/
Tout les prix comprennent les taxes du Pays ou je travaille
Si vous avez des questions, vous pouvez me contacter directement à cet email :

[email protected]
Je n'ai pas d'équipe ou d'assistant, je vous répond en personne !
Merci de votre confiance et à bientôt en vidéo !

---
FAQS
- FR -
1- Le site vous permet de créer un profil gratuitement.
2- Ensuite, vous pouvez acheter une formation par formation, des leçons vidéo ou tout simplement une partition qui sera ajoutée à votre profil aussi longtemps que vous vous enregistrez.
si vous choisissez un abonnement mensuel ou annuel - L'abonnement fonctionne comme sur Netflix -
Ce système vous permet d'accéder à l'école, c'est-à-dire à tous les cours en vidéo, masterclass et contenu. mais si vous vous désabonnez, vous n'aurez plus accès au catalogue
- à l'exception des cours achetés hors de l'école -
Il existe des zones où vous pouvez télécharger des éléments, mais dans les classes vidéos, les partitions ne sont accessibles que visuellement.
si vous voulez télécharger et conserver la partition ou le cours en vidéo, vous devez l'acheter, je vous propose un lien qui vous permettra de le télécharger, et qui restera à vie sur votre profil.
---
Comment le paiement est-il pris pour le renouvellement, par exemple un abonnement
le paiement de l'abonnement se fait automatiquement par mois ou par année, mais vous pouvez annuler à tout moment. parce que chaque pays est différent.- voir l'aide de "teachable"
Le paiement est-il pris automatiquement ou un rappel est-il envoyé
À combien de leçons et de scores puis-je avoir accès pendant un mois?
Au Catalogue complet - hors partitions seules à télécharger -

Une fois le mois écoulé, qu'advient-il des leçons / scores que j'ai choisis?
Si vous supprimez ou arrêtez votre abonnement, vous perdez l'accès au catalogue complet
Qu'adviendra-t-il d'une leçon que j'achète en un seul article?
Si vous avez payé un seul article, vous le conservez même si vous n'êtes plus abonné.

À quelle fréquence de nouvelles leçons / scores seront-ils disponibles?
Mon objectif est d'offrir en moyenne deux nouveaux cours en vidéo par mois ou plus, selon le mois.
Comment télécharger une partition ?
Vous pouvez télécharger la partition d'un morceau comme sur la photo.
Il suffit de cliquer sur le titre comme cette exemple.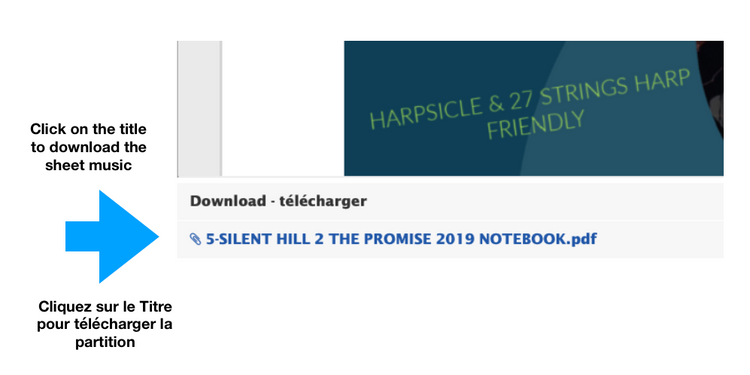 je vous propose 3 versions.
au format notebook

au format PDF seul, sans couverture

au format muscore, qui est un logiciel gratuit de musique.
à vous de choisir ce qui vous correspond.
---
Pour plus d'informations, contactez moi : [email protected]
Eve Rodolfi - McTelenn