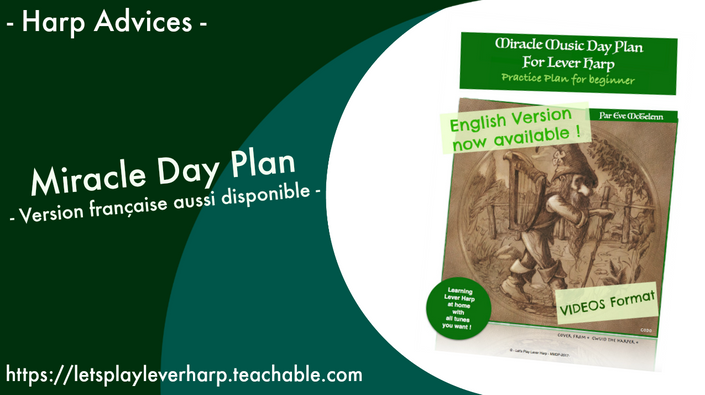 ENG
How to learn Celtic harp at home?
Progress effectively at home without worries
A study shows that on average more than 63% of people
who start a musical instrument stops after one year of practice!
Why ?
most often it is for different reasons where:
of time, take the time to practice
economic reasons
reasons for motivation
and especially everyday,
how to practice your instrument as an amateur to progress and have fun!
after this finding,
I propose a training that will give you
my keys,
my fundamentals to learn at home the harp
with a different angle,
an angle to organize
and create a positive routine.
The Miracle Music Day Plan is a Video Day training course

This plan is offered in 12 Tools

3 Videos + 2 Podcasts
Plan :
Day 1 - song preparation and discovery
Day 2 - work on the tempo and enrichment of the right hand
Day 3 - endurance, expression and creativity and much more.

You will also have:

The Weekly Plan - Pdf + Picture version -
The information Tune Page - Pdf -
The Practice Plan - Pdf -
The Rainbow Color Plan - Pdf -

Bonus
2 Scores
- An hini a garan / Breton tune
-Christ Child Lullaby / Scottish lullaby

Class Curriculum - Programme de la formation
- Welcome -
Available in / Disponible days / Jours
days / Jours after you enroll
- English Version -
Available in / Disponible days / Jours
days / Jours after you enroll
Get started now! - Démarrer maintenant